Going to Friendly's for ice cream was a rare treat when I was growing up, even though it was closer to our house than the Sanders Ice Cream stores that we preferred.
My favorite item, and there was no second place, was the Reese's Pieces Sundae. It didn't matter if I had eaten a full meal at Friendly's or I was there just for the sundae, I ate it all. Every time.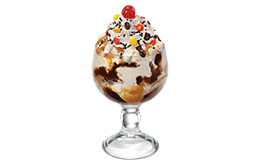 I read this week that one of the chain's founders, S. Prestley Blake, died Feb. 11 at 106 — 106! — and it brought back memoories of this concoction.
Mr. Blake and his younger brother, Curtis, who died in 2019 at 102, founded the first Friendly Ice Cream in the summer of 1935 in Springfield, Mass., with a $547 loan from their parents.
The last time I had a Reese's Pieces Sundae was in New Jerey in the fall of 2003 and it tasted just as incredible as I remembered. How often does something like that live up to the memory of it?
For now, the chances of my having one again are slim — unless I get to East Coast, where all the remaining Friendly's locations exist. I'm glad to know that it's even a possibility all these years later.